John Gunner & Co. Ltd have been providing our clients throughout Surrey, Sussex, and Hampshire with the finest composts and bark for over 100 years.
When you decide to use composts or bark they do a lot more than just keeping your garden beds looking nice, below are some of the benefits:
Bark is an ideal weed suppressant when applied at a suitable depth, and those that do emerge can be easily removed.
Bark and composts provide insulation to the roots of plants from both excess heat and cold throughout the season.
Composts provide nutrients to the soil as it gradually breaks down.
Bark & composts retains moisture which helps plants through dry periods.
All of our composts and bark are delivered using our own fleet of modern environmentally friendly (Euro 4 and above) HGV vehicles.  We can deliver anything between three and twenty cubic metres of material at a time, access permitting.  All loads are tipped loose, and we suggest laying tarpaulins or boards down at the tip site.  Alternatively we have onsite loading facilities for customers with large trailers or appropriate vehicles. 
For our customers convenience we are able to deliver onsite not only Monday to Friday, but also on Saturday mornings until midday.
ORGANIC COMPOST
Description
This product originates from green waste.  It is then composted in accordance with PAS 100 composting standards to produce this very Fertile Organic Compost, which is then sieved at 10mm.  This product can be used for mulching soil conditioning as a growing media etc.  This product is peat free.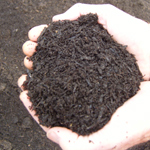 Bark or composts can help prevent soil erosion.
They act as a buffer for the soil from rapid temperature change.
ORNAMENTAL BARK - (8 - 25mm)
Description
This decorative Bark to predominantly pine based and is used by both households and prestigious landscaping projects where quality is the most important consideration.